SyMDROID will provide you with training and education across clinical, molecular biological, data science, as well as ethical, legal, and social research. It will foster your interdisciplinary connection to other young researchers working in these fields. Renowned experts from different fields will not only give inspiring lectures, but will also engage with you in both direct and moderated discussions on diverse topics important for systems medicine. Importantly, you will have plenty of opportunities to engage in networking and hands-on work (e.g., during the interdisciplinary hackathon) in groups among your peers. SyMDROID provides a unique forum for horizontal exchange of expertise. The topic of SyMDROID (oncological and immunological diseases) as well as the involvement of clinical research groups, enables you to deepen your systems medicine knowledge using clinically relevant use cases and data provided by said groups. You will understand the potential of systems medicine for oncology and immunology. You will have the chance to perform and understand lab work generating both molecular and sensor data. You will also gain theoretical knowledge and practical skills for application focussed data analysis using the generated data directly or provided example data. On top of this, you will be exposed to ethical, legal, and social implications and challenges of systems medicine and will have the opportunity to engage in discussions with renowned experts.
Schedule
Confirmed Speakers
Prof. Dr. Jan Baumbach, Chair of Computaitonal Systems Biology, University of Hamburg
Prof. Dr. Kimberly Glass, Harvard Medical School and Brigham and Womens Hospital
Dr. Markus List, Chair of Experimental Bioinfomatics, Technical Univeristy of Munich
Prof. Dr. Dr. Michael Marschollek, Peter L. Reichertz Institute for Medical Informatics of TU Braunschweig and Hannover Medical School
Dr. Tobias Fischer, University Medical Center Rostock
PD Dr. Barbara Buchberger, MPH, Institute of Healthcare Management, University of Duisburg-Essen and Robert Koch Institute
Prof. em. Dr. Phil. Dr. med. h.c. Jan P. Beckmann, Institut für Philosophie, FernUniversität in Hagen
Prof. Dr. Daniel Strech, Berlin Institute of Health
Prof. Dr. Philipp Rosenstiel, Institute of Clinical Molecular Biology, University of Kiel
Prof. Dr. Peter Schüffler, TUM School of Medicine, Technical University of Munich
… and the list is growing!
Venue and Date
SyMDROID will be hosted at the TWINCORE in Hannover, Germany from November 1st to November 5th. Travel stipends are available and hotel rooms will be provided, if necessary.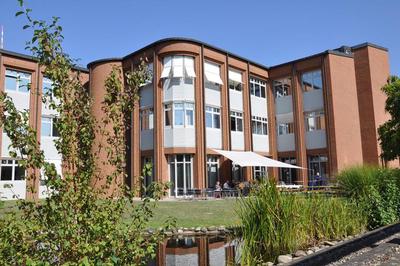 Application
Please send your application including a letter of motivation, a current CV, and an abstract on your contribution (talk and poster) via email to symdroid@plri.de no later than August 15, 2021. The letter of motivation should contain a brief descriptions of your studies or research (whichever applicable), an explanation of relevance to the topic of SyMDROID, and it should describe the need and added value of the interdisciplinary exchange during SyMDROID, ideally outlining self-defined learning goals. Your application will be assessed by a board of reviewers consisting of experts in systems medicine and related fields. You can expect a decision on your application by end of August.
Organizers
Prof. Dr. Tim Kacprowski, Peter L. Reichertz Institute for Medical Informatics of TU Braunschweig and Hannover Medical School as well as Brauschweig Integrated Centre of Systems Biology
Prof. Dr. Michael Heuser, Medical School Hannover
Prof. Dr. Ulrich Kalinke, TWINCORE
Prof. Dr. Reinhold E. Schmidt, Medical School Hannover
Dr. Susanne Kruse, Medical School Hannover